The Great Victorian Rail Trail is a multi-use trail and can be explored on foot, bike or horse. This easily accessible, varied and unique rail trail offers close proximity to heritage classified rivers, majestic valleys, lakes and mountains.
Experience the trail from a different perspective as you walk, cycle or ride your way through the Victorian countryside.
The trail is suitable for riders of all fitness levels and is the perfect way to enjoy the great outdoors with the kids. Gradients are mostly gentle with a few longer climbs to keep things interesting. The highest point along the trail is 397 metres at Merton Gap and the steepest climb is from Alexandra to Eglinton Cutting, though the view from the top is well worth the effort.
The trail surface varies along the 134 kilometres journey and is made up of either compacted gravel (chert) or granitic sand.
The granitic sand is used in sections that are shared use between walkers, cyclists and horses. Signs mark the way for horses where a dedicated bridle path follows beside the gravel (chert) sections.
The trail surface is best suited for mountain, hybrid or touring bikes.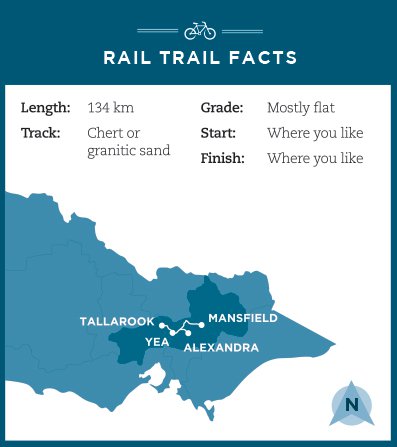 Whether you're seeking adventure or looking to get back to nature, the Great Victorian Rail Trail is for you. 
The Great Victorian Rail Trail is one of Australia's longest continuous rail trails, with Victoria's longest rail trail tunnel at Cheviot. The trail spans 134 kilometres from Tallarook to Mansfield via, Trawool, Yea, Yarck and Bonnie Doon with a branch line from Cathkin to Alexandra. Located less than one hour from Melbourne, the picturesque trail travels from Tallarook to Trawool and Yea through the heritage listed Goulburn River Valley, classified by the National Trust for its scenic beauty.
You can take a ride through the historic 201 metre long Cheviot Tunnel and explore the old Alexandra Station with its Timber Tramway and Museum.
The rail trail meanders through farmland, crossing over Lake Eildon at the Brankeet Arm, on its way to the Victorian High Country, Mt Buller and neighbouring Mt Stirling. You could choose to begin or end your journey at the Information Centre in Mansfield.
With plenty of Australian wildlife out and about it's your chance to get up close to echidnas, wallabies, kangaroos and native birds in their natural surroundings.
Towns and villages along the way offer unique experiences and places to explore, including historic landmarks and buildings, art galleries, museums, food and wine, shopping and markets.