Start planning your trip today and join all those who have already enjoyed this new trail. Now is the perfect time for you to explore and create your own stories, discovering the many towns, villages and attractions along the way.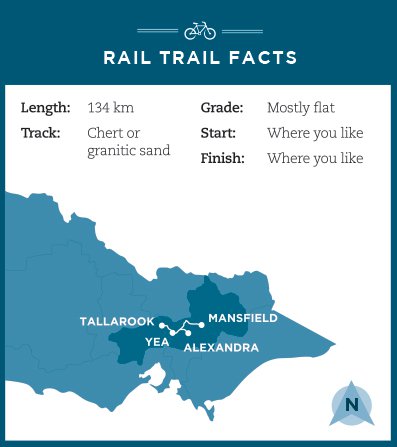 The trail can be accessed from many points. Several towns provide easy access with car parks, picnic facilities and toilets available.
The trail runs east from Tallarook, through the township of Yea to Mansfield. Tallarook is only 100 kilometres from Melbourne, just off the Hume Freeway.
The V-Line Seymour Line train stops at Tallarook Station.
Melbourne Airport is an hour's drive from the Tallarook trail head. To the north, Albury Airport is 2.5 hours drive from Mansfield.
Alexandra, at the junction of the Goulburn Valley and Maroondah Highways is 138 kilometres from Melbourne. The Alexandra spur line is 13 kilometres long and joins the main trail at Cathkin.
Mansfield is approximately 192 kilometres from Melbourne at the eastern end of the trail. It is a popular starting point for both single and multi-day trips.
Return transport, bike hire and tours are available through private operators for one-way or return trips.
All Terrain Cycles / (03) 5775 2724 / www.allterraincycles.com.au
There are 12 toilets on the trail and several shelters with tables and seats. Public toilets are also available in the local towns.
The Eglinton Cutting shelter has the most magnificent view of the Cathedral Range. Stop beside the Goulburn River 6 kilometres from Tallarook, or catch your breath approaching Mansfield and take in the views of the High Country. The approach to Mansfield with the spectacular mountains ahead is a perfect place to stop for refreshments.
BBQs are available at Tallarook, Yea, Alexandra, Bonnie Doon and Mansfield.
Please carry food and water while on the trail.